We supply and replace fire extinguishers in Barbican and the rest of the City, fully commissioned and certified.
Fire Extinguishers – Barbican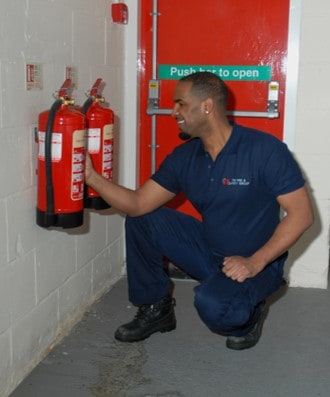 Here at Surrey Fire and Safety we have a wealth of experience supplying, fitting and commissioning certified fire extinguishers for all types of business in Barbican and other areas of the City.
Because buildings in locations like the Barbican are often large and used by lots of people over many hours of the day, we are careful to respect the everyday use of the premises and keep disruption to a minimum as we fit new fire extinguishers or carry out servicing.
All of our fire extinguisher engineers are fully accredited and BAFE registered which means all of our extinguisher work is performed to British Standards.
Whether you need a full suite of replacement fire extinguishers, or routine maintenance on your existing extinguishers, we can help.
We carry out the full range of fire extinguisher commissioning, certification, maintenance and repairs so you can always be confident you are fully protected and within the law.
---
How we can help
All types of fire extinguishers supplied in Barbican and other parts of the City
Competitive prices on foam, water, CO2 and other types of fire extinguisher
We give you a 5 year guarantee on all types of fire extinguishers
Industry accredited, BAFE registered fire extinguisher engineers
Fitting, commissioning and certification to British Standards
We'll take away your old extinguishers for a small fee, or even for free
---
To get a free survey and quote, please call us on 0800 157 1113 or get in touch using our contact form. We will arrange a visit to your building in the Barbican by one of our engineers.
Fire extinguishers – Barbican
Fire extinguishers – Barbican