We are a BAFE accredited fire protection company that's been helping all types of Basingstoke businesses with fire extinguishers for nearly 20 years.
Fire Extinguishers – Basingstoke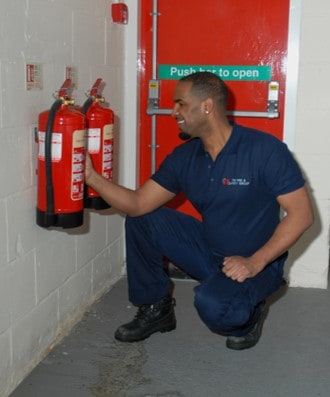 If you are familiar with UK fire safety legislation then you'll know that your Basingstoke commercial premises must have fire extinguishers to comply with the law.
Because the different  types of extinguisher put out different types of fire (electrical, liquid, solid and so on), it's important to have the right varieties available in your building. Working out exactly which ones can feel a bit of a minefield.
Fortunately, we're on hand to help. If your Fire Risk Assessment doesn't already tell you which extinguishers you need, we offer a free fire extinguisher site survey to all Basingstoke businesses. This clearly sets out which types of extinguisher are right for your premises, how many are required, and where they should be located.  It's obligation-free and costs nothing.
We offer the full range of fire extinguisher services, from a full installation, through to your annual service, or we'll happily help you out with refills and repairs.  We take great pride in what we do and have worked hard over the last 20 years to earn our reputation for quality work and customer service.
Our fire extinguisher engineers are all BAFE accredited and work to British Standards.  They have broad experience servicing all sorts of business customers, working in all sorts of environments, and are highly professional.  They will make sure that there's no disruption to your business as they carry out their work.
Our extinguishers are kite-marked and also meet British Standards, as well as conforming to European guidelines. As you'd expect, we carry the full range – water, foam, dry powder, CO2 and others.  We guarantee every extinguisher for 5 years.
---
How we can help
20 years experience providing extinguisher services to all types of Basingstoke businesses
All fire extinguisher engineers are BAFE accredited and work to British Standards
Full range of extinguisher services: supply, installation, testing, service and repairs
We sell all types of extinguisher: water, foam, CO2, dry powder, wet chemical
Our extinguishers are kitemarked and guaranteed for 5 years
Let us take away your old fire extinguishers from your Basingstoke premises for nothing or a small fee
---
Please give us a call on 0800 157 1113 if you would like to book a free site survey visit from one of our accredited engineers, or use our contact form below.
Fire extinguishers – Basingstoke
Fire extinguishers – Basingstoke