Our BAFE registered fire extinguisher engineers supply and service all types of fire extinguishers in Croydon and South London.
Fire Extinguishers – Croydon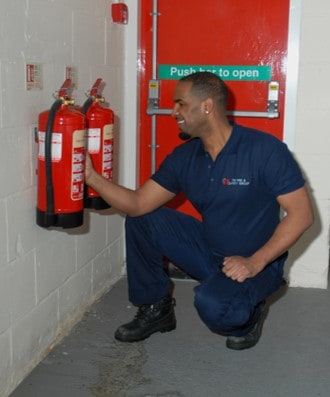 Whatever your business, UK fire safety legislation requires that all business premises in the UK must have fire extinguishers installed.
The type and number of fire extinguishers you need will be different depending on your type of business and the size and arrangement of your premises.
Our free survey, available to all customers in Croydon and South London, will tell you exactly what you need, if your Fire Risk Assessment doesn't already specify this.
At Surrey Fire and Safety, We have nearly 20 years worth of experience providing the full range of fire extinguisher commissioning, certification, servicing and repair for customers in Croydon.
All of our fire extinguisher engineers are 100% BAFE registered so all fire extinguisher work is carried out to the highest standard. Most importantly, you'll always be able to be confident you are fully protected and within the law.
---
How we can help
We supply, install, service and repair high quality fire extinguishers in Croydon and South London
A friendly team of 100% BAFE registered fire extinguisher engineers
All fire extinguisher work completed to British Standards
All types of fire extinguisher supplied at competitive prices, including powder, foam, water and CO2
All fire extinguishers supplied guaranteed for 5 years
We'll take away your old extinguishers for free or a nominal fee
---
If you'd like us to advise you on fire extinguishers, then please call 0800 157 1113, or use our contact form, to book a free survey of your Croydon business premises.
Click here for more information on fire safety in Croydon.
Fire extinguishers – Croydon