Our professional BAFE registered fire extinguisher engineers have been supplying and servicing fire extinguishers to the highest quality in Kensington and West London for nearly 20 years.
Fire Extinguishers – Kensington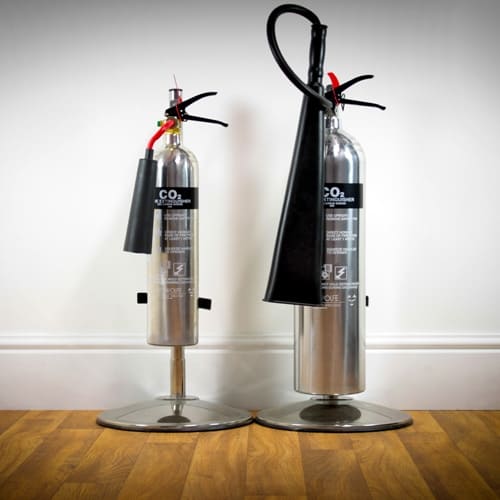 All business premises need fire extinguishers according to UK fire safety legislation.
However, the number and type of fire extinguisher you need will vary depending on the nature and size of your business.  This is because different types of extinguisher are required for different types of fire risk.
We don't expect everyone to be a fire safety expert (that's our job!), so to keep things simple we offer a free survey to all businesses in Kensington which will tell you exactly which fire extinguishers you need to stay within the law; that is unless your Fire Risk Assessment already specifies the number, type and location required.
Our team of industry accredited, BAFE registered engineers  supply, fit, service and repair all types of fire extinguisher in all types of business premises.  They are used to working discreetly and professionally in busy locations, such as retail outlets, without disturbing the normal running of the business.
If you are looking for something a little more stylish than the standard red fire extinguishers, in keeping with Kensington's classy ambience, we can also supply all types of extinguisher in an attractive stainless steel casing.
We've been supplying fire extinguishers to customers in Kensington and across West London for nearly 20 years and take our reputation for great customer service and high quality work very seriously.
---
How we can help
Our 100% BAFE registered fire extinguisher engineers serve the whole of Kensington and West London
We offer fire extinguisher supply, installation, servicing and repairs and work to British Standards
We supply all extinguisher types: water, foam, CO2, dry powder, wet chemical etc.
We guarantee all extinguishers that we supply for 5 years
We will charge nothing, or just a small fee (depending on quantity)to remove your old fire extinguishers from your Kensington premises
---
Please call us on 0800 157 1113 or use our contact form below if you would like to book a visit from one of our industry accredited engineers to visit your Kensington business.  All site surveys are free.
Fire extinguishers – Kensington
Fire extinguishers – Kensington