Our professional fire extinguisher engineers have been supplying and servicing all types of extinguisher in Mayfair and London for nearly 20 years.  All work completed to British Standards.
Fire Extinguishers – Mayfair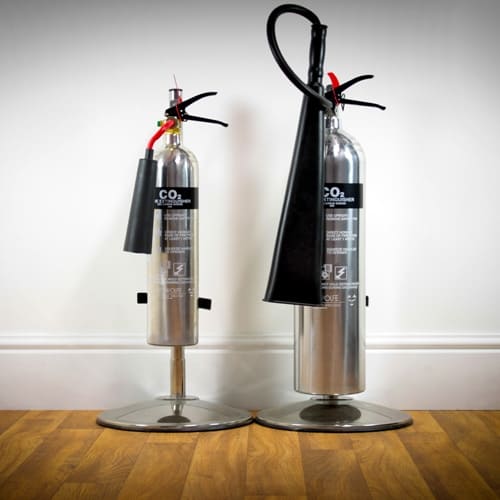 Mayfair is one of the most exclusive areas of London, home to world-famous theatres, galleries and even foreign embassies.  Yet even elegant businesses in Mayfair still need fire extinguishers according to UK fire safety legislation.
With Mayfair housing so many historic buildings, we wouldn't want to leave fire safety to chance.  So we offer all businesses in Mayfair a free fire extinguisher site survey.
This will specify the exact number and type of fire extinguisher you need, as well as where to locate them.  It's important to get this right because different types of extinguisher are designed to tackle different types of fire.
If your Fire Risk Assessment already sets out your extinguisher requirements, then we can happily provide a quote for you using that as the specification.
No matter which types of extinguisher you need – water, foam, CO2, dry powder or wet chemical – we can provide them.  We also supply all types in a more sophisticated stainless steel casing if you would like something easier on the eye than the standard red.  We attach a five-year guarantee to all of our extinguishers as standard.
Whatever you need  – a survey and some good advice, a full extinguisher refit, your annual service, or just a few repairs and refills – we can help.  Our BAFE registered fire extinguisher engineers have been serving customers in Mayfair and across London for nearly 20 years and take pride in delivering great customer service and quality work.
---
How we can help
We cover all of Mayfair and London for all extinguisher work: supply, installation, service & repair
All of our fire extinguisher engineers are 100% BAFE registered
All of our extinguisher work is performed to British Standards
Water, Foam, CO2, Powder and Wet Chemical extinguishers all available in red or stainless steel
We guarantee all of our extinguishers for 5 years
We charge nothing or just a small sum to remove your old fire extinguishers from your Mayfair premises
---
To book a free site survey and quote, or just to get some good advice, please call us on 0800 157 1113 and we'll arrange for one of our friendly engineers to visit your Mayfair premises.  Alternatively, you can use our contact form below.
Fire extinguishers – Mayfair
Fire extinguishers – Mayfair