We've been supplying and servicing all types of extinguisher for customers in Notting Hill and West London for nearly 20 years.  100% BAFE registered.
Fire Extinguishers – Notting Hill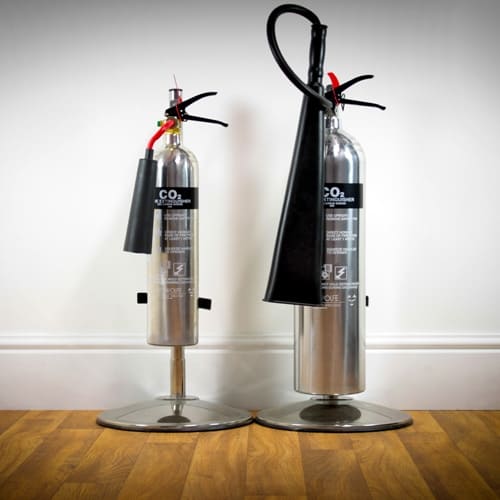 Notting Hill and its close neighbour, Portobello Road, are famous for their independent boutiques, stylish restaurants and trendy bars, as well as being home to some of the most characterful buildings in London.
If you're a business in Notting Hill, then you will need fire extinguishers to comply with UK fire safety legislation.
However, the quantity and type of extinguisher you require will be different depending on the nature and size of your business.  This is because different types of extinguisher are required for different types of fire risk.
We take the guesswork out of fire safety by offering all businesses in Notting Hill and West London a free fire extinguisher site survey.  If your Fire Risk Assessment doesn't already tell you what you need, then our survey will specify the exact types and quantities of extinguisher that are right for your premises, and where to locate them.
We supply all sorts of extinguishers, protecting all sorts of businesses: water, foam, CO2, dry powder and wet chemical being the most common types.  We can supply all of the above in standard red, or if you're looking for something more stylish, stainless steel.
Our team of BAFE registered engineers offer the full range of extinguisher services across Notting Hill and London: we can supply them, install them, service and repair them.  All work is delivered to British Standards.
Our extinguisher engineers are used to working discreetly in bustling locations, such as shops and bars, without disturbing the normal running of the business and take pride in delivering great customer service and quality work.
---
How we can help
Our 100% BAFE registered fire extinguisher engineers serve the whole of Notting Hill and West London
Full range of extinguisher services: supply, installation, servicing and repairs, performed to British Standards
All extinguisher types supplied: water, foam, CO2, dry powder, and wet chemical, in red or stainless steel casings
All extinguishers come with a 5 year guarantee as standard
Let us remove your old extinguishers from your Notting Hill premises for nothing or just a nominal fee
---
If you would like to book a visit for one of our industry accredited engineers to come to your business premises in Notting Hill, please just call us on 0800 157 1113 or use our contact form below .  All site surveys and quotes are provided free of charge.
Fire extinguishers – Notting Hill
Fire extinguishers – Notting Hill