Our friendly, BAFE registered fire extinguisher engineers supply and service all types of fire extinguisher in Uxbridge & surrounds.  We guarantee all of our extinguishers for 5 years as standard.
Fire Extinguishers – Uxbridge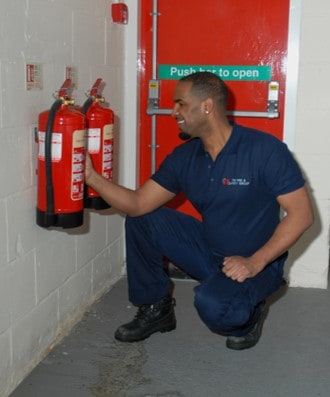 UK fire safety legislation gives clear guidelines on fire extinguishers – basically all business premises in the UK should have them.
If you're a business owner or decision maker in Uxbridge you probably know this already. However, you may not be sure which type, or how many.
That's where we can help.  It's important to get your fire extinguisher requirements right, because different types of extinguisher are designed to tackle different types of fire.
So you can be sure you've got exactly what you need, we offer a free fire extinguisher site survey to all Uxbridge businesses.   This will specify which types you need, how many, and where they should be located.
We supply all types of fire extinguisher – foam, water, CO2, dry powder and wet chemical – and only range kite-marked brands which meet both British and European standards.  We have such confidence in the quality of our stock, we guarantee every extinguisher we sell for 5 years.  In the long run this should save your business money over cheaper brands.
Our industry accredited extinguisher engineers are BAFE registered and deliver all work to British Standards.  They are used to working in all types of business environments and are polite and professional.  If your Uxbridge premises are busy on a day to day basis, then they will work discreetly in the background, making sure not to disrupt proceedings.
Surrey Fire and Safety has been supplying fire extinguishers in Uxbridge for nearly 20 years and we are proud of our reputation for customer service and quality work.
---
How we can help
We offer the full range of extinguisher services in Uxbridge – supply, fit, test, service and repair
Our engineers are 100% BAFE registered & industry approved
All work is delivered to British Standards
All types of extinguisher available, including powder, water, CO2, foam and wet chemical
We guarantee all fire extinguishers for 5 years
When we service we will aim to re-use your existing extinguishers, rather than sell you new
We'll remove your old fire extinguishers from your Uxbridge premises for nothing or just a nominal sum
---
If you would like one of our friendly engineers to visit your business in Uxbridge, give us a call on 0800 157 1113 or fill out our contact form below.  All of our surveys are free and no strings attached.
Fire extinguishers – Uxbridge
Fire extinguishers – Uxbridge