We are a BAFE accredited fire protection business who supplies, fits & services all types of fire extinguisher in Woking.  5 year guarantee on all extinguishers.
Fire Extinguishers – Woking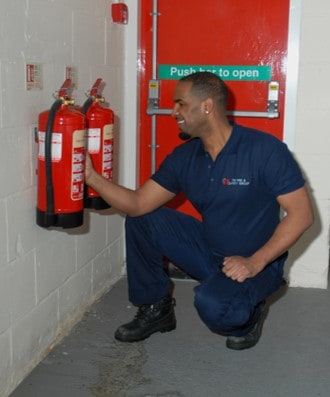 If you're a business owner or decision maker in Woking, you probably know that having fire extinguishers on your premises is a must if you're going to comply with UK fire safety legislation.  The guidelines are pretty clear.
What can be confusing however, is knowing exactly which types of fire extinguisher you need.  This changes depending on the nature of your business and how your commercial buildings are laid out
Your Fire Risk Assessment may specify your extinguisher requirements, but if it doesn't then we offer all businesses in Woking a free fire extinguisher site survey.  This lets you know the exact quantity you need of each type of fire extinguisher and also tells you where they should be located.
Because the different types of extinguisher tackle different types of fires, it's crucial to get this right.
Surrey Fire & Safety provides the whole range of fire extinguisher services – we supply, fit, service and repair.  As you would expect, we also range every type of fire extinguishers (water, foam, dry powder, CO2 and wet chemical are the main varieties), in both the standard red and a more sophisticated stainless steel.
All of our fire extinguishers are kite-marked and meet British and European standards.  We also attach a 5 year guarantee to every extinguisher we sell.  Our fire extinguisher engineers are also BAFE accredited so you can be sure all work is carried out to the highest standard.
We have nearly 20 years worth of experience providing the full range of fire extinguisher services for customers in Woking and take pride in our great customer service and quality work.
---
How we can help
We offer the full range of extinguisher services in Woking:  supply, fit, commission, service and repair
Our engineers are 100% BAFE registered and are a friendly, professional team
All extinguisher work completed to British Standards
We range all extinguisher types: water, foam, powder, CO2 and wet chemical
Our extinguishers are guaranteed for 5 years
We'll remove your old extinguishers from your Woking premises for free or a nominal fee
---
To book one of our friendly engineers to come to your Woking business, please call us on 0800 157 1113 or use our contact form below.  All surveys are absolutely free, with no obligation.
Fire extinguishers – Woking
Fire extinguishers – Woking