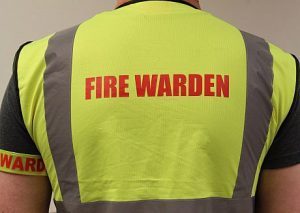 The Fire Brigade recommends that your Fire Marshals (also known as Fire Wardens) undergo Fire Marshal Refresher Training annually to keep their skills and knowledge are up to date.
Our 2 hour Fire Marshal Refresher course will cover the key points of basic Fire Marshal training, and will set attendees a short test.
Importantly, your Fire Marshals will also have the opportunity to ask our experts about any questions they have concerning your specific business premises.
Occasionally we get asked if it matters if we didn't do the initial Fire Marshal training.  The short answer is 'no' - any Fire Marshal can attend this course, no matter who trained them originally.
This is because the Fire Marshal Refresher Training will go back over the main topics from our introductory Fire Marshal course and allow plenty of time for questions.
If you have 4 or more fire marshals in your business, then we can probably save you money by holding the training at your premises, or otherwise you can book single places on one of our public trainings.
Contact us for a quote to train at your premises
Find a place on a public training course
Who is the Fire Marshal Refresher Training for?
-    The person responsible for fire safety in your business
-    Your designated Fire Marshals / Fire Wardens
It is not suitable for new Fire Marshals who have not yet had any training.
They should attend our Fire Marshal training course in the first instance.
What the Fire Marshal Refresher Training covers:
Our Fire Marshal Refresher training course runs as follows:
-    A reminder of the key topics from our Fire Marshal training course:
o  Head Fire Marshal and Fire Marshal Duties
o Fire doors, fire exits, and fire signs
o Managing visitors & contractors
o Working with the fire brigade
o What to do in case of fire
o Evacuation procedures & dealing with panic
o Making sure paperwork is filled in correctly
-    Runs through any legislation updates
-    Explains any new fire safety guidelines
-    Discussion of fire safety precautions at your specific business premises
-    Question & Answer session
-    Evaluation test
Fire Marshal training course locations
If you would like us to come to your premises to train, then we cover London, Surrey, Berkshire, Hampshire - in fact the whole South-East.
We also have various public fire marshal training course locations for you to choose from, if only one or two people need to attend.
To discuss any of your training requirements, please just get in touch with our friendly team on 0845 845 3001, or at info@surreyfire.co.uk - they'll be happy to help.
Fire Marshal Refresher Training London, Surrey, South-East