We have nearly 20 years experience helping all types of business with their fire extinguishers in Farnborough and Hampshire, and are proud of our reputation for customer service and quality work.
Fire Extinguishers – Farnborough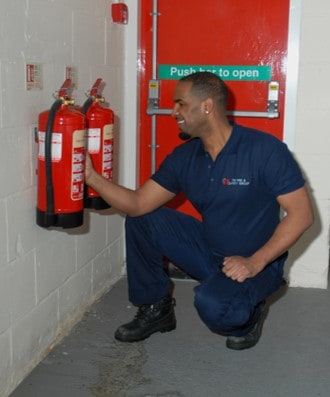 Farnborough is perhaps best known as the birthplace of British Aviation, however it's also home to many thriving businesses operating out of all sorts of commercial buildings- from shops and bars, to offices and warehouses.
If you're responsible for fire safety in a Farnborough business, then you probably already know that your premises must have fire extinguishers to be in line with UK fire safety legislation.
How many fire extinguishers you need and what type depends on what you're using your commercial premises for and the size of your business. You can find out more about the different types of fire extinguisher here.
However, we think it's safer to take the guesswork out of fire protection, and because not everyone is a fire safety professional (that's our job), we offer all businesses in Farnborough a free fire extinguisher site survey which will specify exactly what you need (if your Fire Risk Assessment doesn't already).
Whichever fire extinguishers you need, and whatever quantity, we will be able to help. We stock the full range of extinguishers (water, foam, dry powder, CO2 and wet chemical are the most common varieties), in both the standard red colour, and also in stainless steel if you would prefer them to be a little easier on the eye.
All of our fire extinguishers are kitemarked which means they meet British Standards, and just to make doubly sure, they meet European standards too. We're so sure of the quality of our fire extinguishers that we guarantee every one for 5 years, which could save your business money.
Our friendly, professional engineers are all BAFE accredited and have a wealth of experience in all types of business premises, however large or small. They are used to working in many different types of environment and will make sure that their work doesn't disrupt the smooth running of your business.
As you would expect, we offer the full range of fire extinguisher services, so whether you're moving premises and need our help, it's time for your annual service, or a fire extinguisher has been set off unexpectedly and you need urgent assistance, get in touch.
---
How we can help
100% BAFE accredited, industry-approved fire extinguisher engineers
All work delivered to British Standards
We cover the whole of Farnborough and offer all extinguisher services: supply, installation, test, service and repair.
We stock all types of fire extinguisher: water, foam, dry powder, CO2, wet chemical and more
Every extinguisher is kitemarked and carries a 5 year guarantee as standard
We'll remove old fire extinguishers from your Farnborough premises for nothing or just a nominal sum
---
Call us on 0800 157 1113 today to book your free survey from one of our friendly, industry approved engineers. They will be able to tell you exactly what your premises needs and provide a quote. There's no obligation at all and all visits are free. Or if you prefer, use our contact form below.
Fire extinguishers – Farnborough
Fire extinguishers – Farnborough