Having the right fire safety measures in place in your office is vital.
For the safety of the team and the office building itself.
All office buildings in the UK are legally required to comply with UK fire regulations, so it's important to understand Fire Regulations for Offices if you are responsible for your office's fire safety.
All fire safety legislation in the UK is gathered together under the 'Regulatory Reform (Fire Safety) Order 2005 – also known as the 'RRO'.
You can find the full RRO here.
We have created this simple guide to help people responsible for office fire safety understand what they need to do for their office to be legally compliant with UK fire safety regulations and the RRO.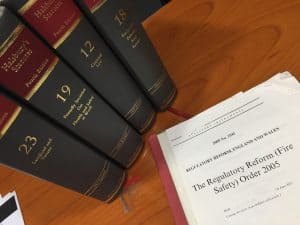 ---
A quick overview of UK Fire Safety Regulations for offices:
All Offices
Whatever the size of your office building – small, medium, or large, you must make sure you have the following fire safety measures in place:
A Fire Risk Assessment
A designated 'Responsible Person'
The correct extinguishers
Fire safety signs in the right areas
Appointed fire marshals/fire wardens
Fire safety training for your team
Most Offices
In addition, for all but the smallest offices, you will probably need:
A fire alarm system
Emergency lighting
Fire doors
Some Offices
Very large, multi-storey office buildings may also have a:
These are types of pipework used by the fire brigade in the event of fire to get water around the building without having to take hoses in.
They are installed in buildings over 18 metres tall (dry riser) or over 60 metres tall (wet riser).
Some office buildings may also have:
sprinklers or
fire shutters.
Office fire regulations require you to make sure these receive ongoing maintenance (every 6 months).
---
Keeping an office safe from fire: What are the main fire hazards in office buildings?
The primary fire hazards in office buildings are:
Electrical equipment such as photocopiers, not being maintained properly or not being PAT tested (electrical faults are a major cause of fire);
Paper, card and other flammable materials being stored inappropriately, e.g. under desks, or next to electrical equipment;
Accidents occurring in team kitchens caused by electrical equipment, such as a toaster, being left unattended whilst in use;
Taller buildings are more hazardous to escape from in the event of fire and so special care must be taken to protect escape routes.
The 'Responsible Person' for your office building should be particularly aware of these fire safety hazards, as should your fire marshals/fire wardens.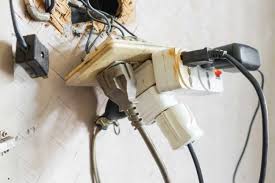 ---
Fire Risk Assessments for Offices
According to UK fire safety regulations for offices, every single office building must have a Fire Risk Assessment, carried out within the previous 12 months.
If there are 5 or more people employed in the office, then the Fire Risk Assessment must be written down.
(We actually recommend that you always get a written Fire Risk Assessment, whatever the size of your team. Your Fire Risk Assessment is the cornerstone of your office's fire safety plans and so hugely important.)
A good Fire Risk Assessor will conduct a thorough inspection of your office building and assess it against UK fire safety regulations.
They will give you an action plan to address any issues, along with the date it should be done by.
Your Fire Risk Assessment should be reviewed every 12 months, or if substantial changes are made to the layout of the building.
In addition, your office should have a fire safety 'Log Book' where every fire safety related activity or incident is recorded.
Contact Us to book a Fire Risk Assessment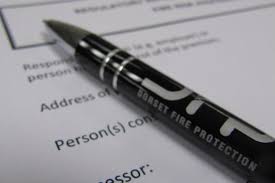 ---
Appointing a 'Responsible Person' for fire safety in offices
UK fire regulations for offices state that all offices (in fact all businesses) in the UK must have a designated 'Responsible Person'.
The Responsible Person is named in the Fire Risk Assessment.
Their role is to make sure that all actions in the Fire Risk Assessment are carried out, and they are responsible for fire safety as a whole in your office.
It's an important role and should be taken seriously because the Responsible Person is legally liable if your office is not fire safety compliant.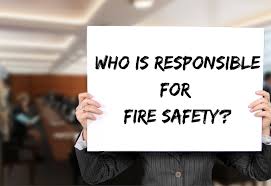 ---
Fire Extinguishers for Offices
Which types of fire extinguisher do I need for my office?
Because of the electrical equipment typically found in offices, fire regulations prescribe that you will need CO2 extinguishers.
You will also need either water or foam fire extinguishers. These are used for paper, cardboard, and wood based fires (known as 'carbonaceous' fires).
If you have a staff canteen that uses a deep fat fryer, fire regulations for offices demand that you have both a wet chemical fire extinguisher and a fire blanket installed alongside the fryer.
Spray extinguishers are preferred in offices because they are safer to use in environments with live electrical equipment.
It's important to note that if you buy fire extinguishers from an online retailer, they still need to be commissioned and serviced by a fire safety professional for your office to comply with UK fire regulations.
How many fire extinguishers do I need for my office?
All office buildings need at least 2 water extinguishers per floor – as a minimum.
We always recommend that you consult a fire risk assessor or BAFE qualified fire extinguisher engineer if you are unsure.
If you have anything other than a very small office building, then the number of extinguishers you need will depend on the footage.
Contact Us for a Free extinguisher office survey
Where should my office fire extinguishers be located?
Fire extinguishers are typically placed near exits.
If you have a fire alarm, then place the extinguishers by the fire alarm callpoints.
It's common to pair water or foam extinguishers with CO2 extinguishers to cover all eventualities.
In addition, CO2 extinguishers (for electrical fires) should be placed next to the fire hazard – the photocopier, for example.
Your office fire extinguishers need to be stable and secure, which means either fixed to the wall, or secured in a fire extinguisher stand.
H

ow often do my office extinguishers need servicing?
According to UK fire regulations for offices, fire extinguishers should be serviced every 12 months by a suitably qualified individual, such as a BAFE certified fire extinguisher engineer.
Contact Us to book a fire extinguisher service
---
Fire Safety Signs for Offices
Fire safety signs are a part of fire safety regulations that are often overlooked, but which are actually vitally important.
They help people find fire fighting equipment and negotiate their way out of the building in the event of fire.
All fire exits, fire alarm call points, fire extinguisher locations, and fire doors should be indicated by signs.
We recommend always using photo-luminescent signs which glow in the dark, in case the power cuts off during a fire.
In addition, every office should have a 'Fire Action Notice', irrespective of size.
A Fire Action Notice tells occupants what to do in case of fire.
They are often placed above fire alarm call points
Find out more about fire safety signs here.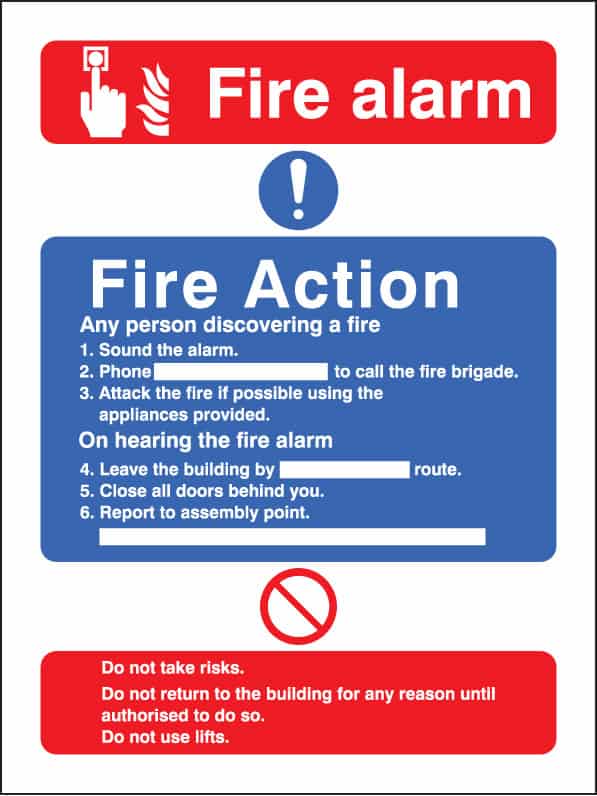 ---
Fire Marshals/Fire Wardens for Offices
All offices must have a least 1 appointed Fire Marshal, or Fire Warden, and ideally 2 (to cover holidays and absences), according to UK fire safety regulations.
However, the exact number depends on a number of different factors, including the level of fire risk, the number of occupants in the building, and any shift patterns that are in place.
To understand more about how to calculate the number of fire marshals you need for your office, read our blog article: how many fire marshals do I need?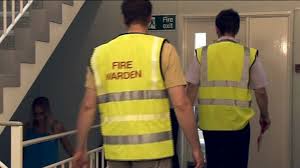 ---
Fire Safety Training for Office Teams
Training for the general office team:
All offices should have a fire safety plan in place.
A fire safety plan tells people what to do in the event of fire, whether they are fire marshals or not.
It's a written document that should be given to new staff at induction and then a copy made available in general areas such as the staff notice board.
The fire safety plan must be reviewed every year and the team re-trained on it.
General staff should know how to sound the alarm, how to leave the building safely, and where the assembly point is.
Training for the office Fire Marshals:
Fire Marshals require full fire marshal safety training from a fire safety professional, and this should be refreshed annually.
Fire Marshals in offices which admit the general public should also receive specific training on how to evacuate non-staff members.
Find out about our Fire Marshal training course.
Evacuation drills for offices:
For larger, multi-level buildings we recommend carrying out an annual fire evacuation drill, ideally supported by a fire safety professional, or for very large buildings, the fire brigade.
Please note that if you are an office in a multi-firm building, you will need to adopt the evacuation procedures of the landlord.
If you have disabled, low mobility, or pregnant members of staff, they should have a personalised evacuation plan, and be assigned an evacuation 'buddy' to help them in event of fire.
If you have wheelchair users on upper floors, you will also need evacuation chairs to enable them to get down the stairs.
Contact Us to book a guided fire evacuation drill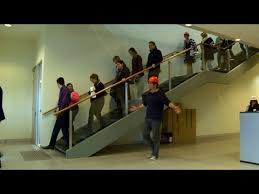 ---
Fire Alarm Systems for Offices
Does my office need a fire alarm?
Fire alarm regulations for offices are pretty clear.
If your office is just a single room, then you are unlikely to need a fire alarm.
Other than that, the likelihood is that a fire alarm is required.
The 'acid test' is whether or not a shout of 'Fire!' can be heard throughout the office, when all the doors are closed.
If not, then you will definitely need a fire alarm.
What kind of fire alarm does my office need?
If you have more than one escape route out of your office (e.g. a front door and a back door) you may only need a manual fire alarm system.
This is a very simple (and cheap) solution which doesn't require you to have any automatic detection – such as a smoke alarm.
Effectively you just press a button and a bell or electronic 'sounder' goes off.
If you have only one escape route then you will need automatic detection, so this means smoke or heat detectors, or a combination of the two.
According to UK fire regulations, you cannot use domestic detectors in an office – you must have a properly fitted fire alarm
The most simple of these may only need a couple of detectors, a call-point, and a bell or electronic sounder and can be quite inexpensive to install.
Larger, multi-storey buildings will need something more substantial.
We always recommend using an industry recognised Fire Alarm installer, rather than a general electrician, as these are specialised installations.
Regulations recommend that all fire alarm installs should be completed to British Standards.
Contact Us to book a Free office fire alarm survey.
How often does my office fire alarm need to be serviced
?
Fire alarms should be serviced twice a year and tested weekly.
All tests and services should be recorded in your fire safety log book.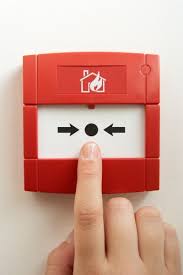 ---
Emergency Lighting for Offices
Offices with rooms bigger than 60 metres2 must have emergency lighting in those rooms.
Escape routes also need emergency lighting, as do any stairs, even if there are only 2 or 3 steps.
Canteens within large offices will need emergency lighting, however you may not need lighting in a small kitchen area or staff tea point.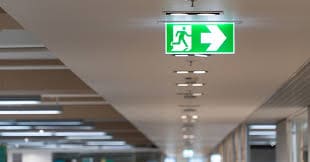 ---
Fire Doors for Offices
Taller, larger, office buildings with longer escape routes need additional protection especially on the lower floors.
Escape routes should be protected by fire doors and fire resistant constructions, and each level must be clearly signed.
If you're not sure whether or not you need fire doors, we recommend consulting an expert, as fire doors can be the difference between occupants being able to escape a fire, or not.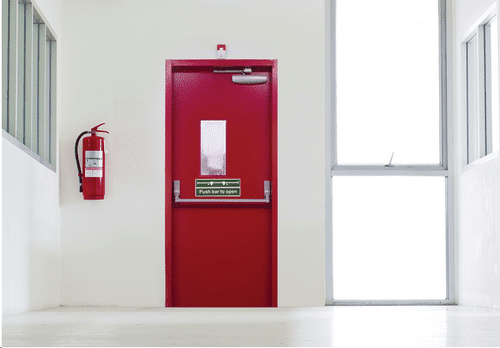 ---
Dry and Wet Risers in Offices
As mentioned, dry and wet risers are found in taller buildings and have the purpose of helping the fire brigade get large volumes of water into a burning building quickly.
If your office has a dry or wet riser, and you are responsible for it (rather than your landlord), then you will need to make sure it is inspected twice a year by a fire safety professional.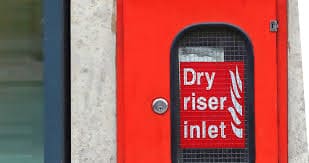 ---
Sprinklers and Fire Shutters in Offices
Some offices have sprinklers and fire shutters as extra fire safety measures, which have usually been put in at the time of the building's construction.
If your office has either of these installed, then you will need to make sure they are serviced every 6 months by a qualified person (usually at the same time as your fire alarm), and tested weekly.

---
We hope this guide to Fire Regulations for offices in the UK has been useful to you.
If you have any questions at all please just get in touch with our friendly team, they will be happy to help.