Wireless fire alarm systems have a lot of benefits and are becoming increasingly popular.
Read on to find out if a wireless system is the right fire alarm system for your business premises.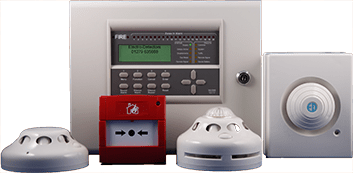 Wireless fire alarm systems might sound a bit new-fangled but they actually first appeared in the 1980s.
Because the early technology experienced a few issues (mainly with battery life and radio transmission), wireless fire alarm systems gained a reputation for unreliability. However, this is no longer true today.
In the same way that 21st century mobile phones and computers are light years ahead of their 1980's ancestors, so are wireless fire alarms.
Today's systems are generally fully compliant to British Standards (BS5839) and European Standards for fire alarms (EN54), and there are many reputable wireless fire alarm manufacturers to choose from.
If you decide that a wireless fire alarm system is right for your business, our expert team is able to fit, test and commission all types of wireless fire alarm system, in London, Surrey and throughout the South-East.
---
Book a FREE site survey from an expert fire alarms engineer in London, Surrey & surrounding areas – 0800 157 1113
---
How do wireless fire alarm systems work?
There's no prizes for guessing that a wireless fire alarm system has no wires. Instead, a radio signal is transmitted from the call points and smoke or heat detectors to the fire alarm control panel (the call point is the box on the wall where you can raise the alarm if you spot a fire).
From the point of view of anyone using a building fitted with a wireless system, it works in exactly the same way as a 'normal' hard-wired system – you spot a fire, you break a call point; a call point breaks, the alarm sounds.
There's no special training required and you're protected in exactly the same way.
Should I get a wireless fire alarm system?
There are many benefits to installing a wireless fire alarm system, but there are some downsides too. It's important to weigh these up carefully. Here's some pros and cons for you to think about:
The benefits of wireless fire alarm systems:
– As reliable as a wired system and tested to British and European standards
– Quick to install and can be fitted with minimum disruption to your business
– No need to shut down areas of the building or be open out of hours for the installation to take place
– No ugly cables or damage to your walls – the only cable is from the control panel to the mains power
– Can be easily installed in buildings where there is limited access e.g. due to high ceilings
– Layout is easily modified if something in your building changes e.g. you extend
– Will save you money on labour, making good, and decorating costs
– Will still work even if the power goes out as they are battery operated
– Can be used as a temporary system in locations where a wired one can't be installed e.g. building sites
– Can be used to extend existing wired systems
The downsides of wireless fire alarm systems:
– Even though you save money on labour & making good with a wireless alarm, the cost of the hardware is higher than a wired system so the initial set-up may be pricier
– Wireless fire alarms run on batteries which need to be frequently checked and replaced,
– Some wireless fire alarm systems use bespoke batteries which are more expensive
So, should you get a wireless fire alarm?
Basically, what you're getting with a wireless fire alarm system is a quick, hassle-free installation that is easy on the eye and gives you maximum flexibility in the future, but with a slightly higher initial set-up cost and the slight inconvenience and expense of ongoing, regular battery replacement.
On this basis, we'd recommend a wireless fire alarm for any of the following: – For anyone who wants a fire alarm fitted quickly, with a minimum of fuss
– For businesses where aesthetics are important, such as high-end retail outlets
– For businesses which would suffer disruption if they had to shut off areas of building, e.g. hotels
– For historic or listed buildings, or those with building restrictions (The Ritz & Windsor Castle are wireless)
– For buildings which are likely to be renovated or extended in the near future
– For buildings with difficult points of access such as narrow stairwells or high ceilings
– For complex sites with multiple buildings such as schools or colleges
So now you've got the facts, if you think a wireless system is for you, then please feel free to get in touch with us for your free survey and quote by calling us on 0800 157 1113, or emailing us at info@surreyfire.co.uk. Our friendly team will be happy to help.
Wireless not for you?
Find out more about the different types of fire alarm system.
Wireless fire alarm systems in London, Surrey & across the South-East
Wireless fire alarm systems in London, Surrey & across the South-East
Surrey Fire & Safety Ltd holds full BAFE accreditation for fire alarms, covering design, installation, commissioning, and servicing.