Our expert Fire Risk Assessors have been carrying out Fire Risk Assessments and annual reviews for over 20 years.
All types of business in London, Surrey, and the South-East,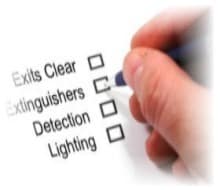 All businesses and blocks of flats must have a valid Fire Risk Assessment to comply with regulations – in fact, it's the cornerstone of your fire safety plans.
Most importantly, if your building has more than 4 regular occupants, then the findings of your Fire Risk Assessment must be set down in writing.
Our team of Fire Risk Assessors have many years' experience between them, often with a background in the Fire Brigade.
Our Assessors are either Fire Brigade trained, or carry Fire Protection Industry accreditations, so you can be confident they are adhering to the latest regulatory guidelines when they give you advice.
We will carry out a thorough assessment of your premises and provide a detailed report, including recommendations and a prioritised action plan.
As well as carrying fire industry accreditations, we are SafeContractor and CHAS approved, and certified to ISO9001, so you can be confident that you will receive the best possible service and advice.
---
Book a Fire Risk Assessment from one of our expert assessors today – 0800 157 1113
---
How we can help
– Fire Risk Assessments available in London, Surrey and the whole South-East
– Fire Brigade trained / industry accredited fire risk assessors
– Full Fire Risk Assessments carried out, as well as annual reviews
– All sizes and types of businesses
– Full audit of premises and procedures
– Easy to understand reports
– Action plan clearly outlined
– All legally required documentation supplied
Whether you decide to use a professional fire risk assessor or to go it alone, anyone who carries out an assessment in your business needs to be confident they can: – Correctly identify the potential causes of fire in the business

– Identify the people at risk
– Assess the suitability of fire safety measures in place, such as fire alarm systems and escape routes
– Assess the ongoing management of fire safety in the business, such as fire drills and staff training
– Develop a fire safety action plan if changes are needed
– Record all the significant findings
– Implement the action plan if one is needed
– Keep the assessment updated on an ongoing basis
A thorough fire risk assessment could mean the difference between top quality fire protection and putting your business and employees at risk.
If you operate a very small business our fire risk assessment template (free download) may be suitable for your needs. If not, we're happy to help.
If you're in the London area and your fire risk assessment is due, or you're concerned your current one may need refreshing, we can complete a full new assessment and provide the supporting documentation within 2 weeks, so that your business is kept fully up to date.
If it's only PAT testing you require, take a look at our detailed PAT testing guide and learn how we can help.
Fire Risk Assessment London, Surrey & the South-East