Our friendly, BAFE-registered fire extinguisher engineers supply and fit fire extinguishers to the highest quality in the Greater London Area.
Fire extinguishers – Kensington, Chelsea and more.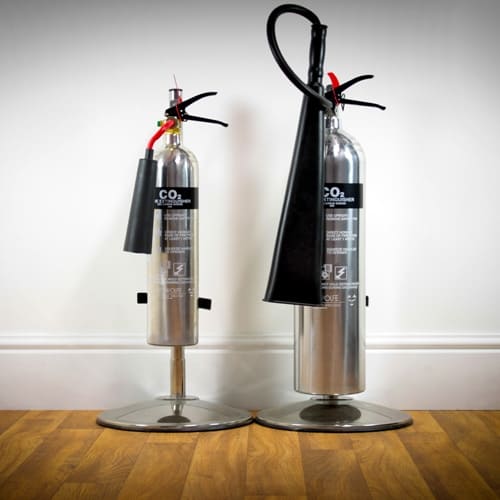 If you're a business located in the Greater London Area – or indeed, anywhere – then you will need fire extinguishers in your business premises, according to UK fire safety legislation.
The exact number and type of fire extinguisher you need will depend on the industry you're in and the size of your business.
We don't expect everyone to be a fire safety expert (that's our job!), so to keep things simple we offer a free survey to all businesses in the Greater London Area, which will tell you exactly which fire extinguishers you need to stay within the law; that is unless your Fire Risk Assessment already specifies the number, type and location required.
Our team of industry-accredited engineers can supply, fit, service and repair all extinguisher types. They are used to working discreetly and professionally in busy locations, such as retail outlets, without disturbing the normal running of the business.
Fire extinguishers – Chelsea, Kensington, South London & beyond
We also supply all types of extinguishers – a foam fire extinguisher, water fire extinguisher, CO2 fire extinguisher, and dry powder fire extinguisher amongst others – in a smart stainless-steel casing which looks more stylish and sophisticated than the standard red; a probably better-suited choice, especially for areas like St John's Wood, Kensington or Earl's Court well-known for their class and elegance. Our range only includes kitemarked brands which meet both British and European standards.
We have been supplying fire extinguishers to customers in the entire Greater London Area for nearly 20 years and we are proud of our reputation for unmatched customer service and high-quality work. We have such confidence in the quality of our stock, we guarantee every extinguisher we sell for 5 years. In the long run, this should save your business money over cheaper brands.
Fire Extinguisher Maintenance – London & Greater London Area
At Surrey Fire, not only will you get a top-notch selection of products and unparalleled customer service – we can also make sure your extinguishers are always ready for action, keeping both you and your business safe.
It's absolutely crucial to understand that proper maintenance and fire extinguisher service is often a key part of your fire safety system. These are often overlooked elements that get lost among all the other responsibilities, but it's actually required by law to have your extinguishers serviced annually. It's not just about safety, but also about following the rules and adhering to specific regulations. And we're here to assist you – with whatever you need.
We offer a full range of fire extinguisher services – supply, installation, servicing and repair. When we carry out an extinguisher service, we aim to re-furbish your existing extinguishers as far as possible, rather than sell you new ones. That way, we can help save your business money.
So, if you're looking for a reliable fire safety company in London & the Greater London Area, give us a call or fill out the contact form. We'll do our best to get back to you as soon as possible and discuss your needs.
Fire Extinguisher Service – London & Greater London Area
With over 20 years of experience in the intricate ways of fire safety and related regulations, we know how to adapt and answer the specific needs of various environments.
Having completed a number of projects all over the Greater London Area, you can rest assured the fire safety of your business is in good hands.
We've done it all – from large office buildings of Canary Wharf requiring a good number of fire extinguishers, public buildings like schools and hospitals of Chiswick or Brentford, busy restaurants of the thriving city of London to trendy boutiques of Notting Hill or Maida Vale and Little Venice, stunning hotels of Knightsbridge and historic buildings of Mayfair.
We understand the requirements of various environments and the importance of uninterrupted day-to-day operation of these businesses and institutions, so our experienced team of professionals always takes special care to make sure they don't break the workflow.
---
Where you can use our services
With over two decades of experience, we've completed plenty of various projects and jobs (and continue to do so) in the following areas of England:
London
Chelsea & West London
Kensington & West London
South East London
Canary Wharf
Uxbridge
Acton
Putney & South West London
St John's Wood & North West London
Waterloo & South London
Heathrow & West London
Maida Vale & Little Venice
Wembley
Shepherd's Bush
Barbican
Battersea & South London
Brentford & West London
Chiswick & West London
Croydon & South London
Earl's Court
Knightsbridge
Mayfair
Notting Hill
Southwark & surrounds
Wimbledon
---
If you run your business in any of these places, we can provide you with a comprehensive, end-to-end fire safety service – get in touch with us today and let's discuss your fire safety needs.
We also offer our services in other parts of England, including the areas of Surrey, Berkshire and Hampshire.
---
How we can help
Industry accredited, BAFE registered fire extinguisher engineers covering Chelsea and West London
Fire extinguisher supply, certification, servicing and repair
All of our fire extinguisher work delivered to British Standards
Competitive rates on water, CO2, powder and foam extinguishers
All extinguishers guaranteed for 5 years
Costs nothing or just a nominal sum to remove your old fire extinguishers from your Chelsea premises
---
Whichever type of extinguisher you need, however many, and whether you'd like the standard red style or the more sophisticated stainless-steel fire extinguishers, we can help.
If you would like one of our industry-accredited engineers to visit your business in the Greater London Area or elsewhere, give us a call on 0800 157 1113 or use our contact form below to book a free survey and quote.