Our friendly, BAFE registered fire extinguisher engineers have been supplying and servicing fire extinguishers in Greenford & surrounds for nearly 20 years.
Fire Extinguishers – Greenford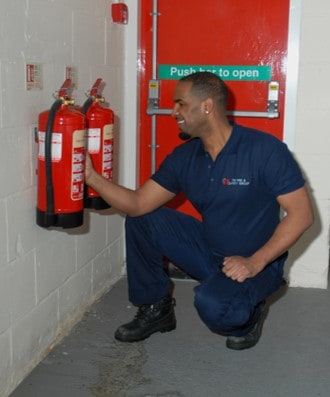 Surrey Fire and Safety has been supplying fire extinguishers in Greenford for nearly 20 years and we are proud of our reputation for customer service and quality work.
Our industry accredited engineers can supply, certify, service and repair all types of fire extinguisher if you're based in Greenford or other areas of West London.
UK fire safety legislation gives clear guidelines on fire extinguishers – basically all business buildings in the UK and Wales need them.
However, how many fire extinguishers & what type depends on what you're using your premises for and the size of your business. We offer a free survey to all Greenford businesses which will specify what you need.
---
How we can help
The full range of extinguisher services – supply, fit, certify, test, service and repair – in Greenford and West London
100% BAFE registered engineers who perform to British Standards
We supply all types of extinguisher, including powder, water, CO2, foam and other extinguishers
5 years guarantee on all fire extinguishers as standard
Let us take away your old fire extinguishers from your Greenford premises for nothing or just a small fee
---
Whether you need foam fire extinguishers, water extinguishers or CO2, and whether you'd like the standard red style or the more sophisticated stainless steel fire extinguishers, we can help.
If you would like one of our industry accredited engineers to pop into your business in Greenford, give us a call on 0800 157 1113 or fill out our contact form below.  We'll be happy to arrange a free survey.
Fire extinguishers – Greenford
Fire extinguishers – Greenford