We run high quality, affordable, public Fire Marshal courses in Slough, open for anyone to attend. Designed for companies who have just one or two team members who need training, these Fire Marshal courses send you away certified on the day.
We have Introductory courses for newly appointed Fire Marshals, as well as Refresher courses for existing Fire Marshals who need their annual update training.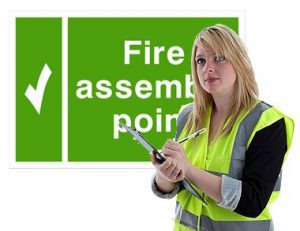 We know that finding enough time is often a business's biggest challenge.
That's why we design our Slough Fire Marshal courses to give comprehensive, practical training, whilst taking team members out of the business for as little as possible.
Our Fire Marshal courses in Slough are run on a regular, monthly basis.
It's important to make sure Fire Marshals are adequately trained and that this training is kept up to date – otherwise you may not be covered by insurance.
Insurance companies usually need you to demonstrate that your Fire Marshals have had a thorough grounding in fire safety, and that they have annual refresher training every year.
---
If you have 4+ people who need Fire Marshal Courses in Slough, ask us about training at your premises – it could save you money.

---
Our Slough Fire Marshal Introductory Training Course typically lasts between 2 and 2.5 hours.
At the end of the course all attendees will receive a certificate to confirm they have completed the regulatory Fire Marshal training.
The Introductory Fire Marshal Training Course Syllabus in Slough includes:
–    Head Fire Marshal duties
–    Fire Marshal duties
–    What to do in case of fire
–    How to use a fire extinguisher
–    How to deal with panic
–    Managing evacuations
–    Working with the fire service
This is a comprehensive, practical course, led by a Brigade or fire industry qualified trainer, who will make sure your Fire Marshals have the fire safety grounding they need.
Our Fire Marshal Courses Slough Venue:
Our Slough training venue is Langley Pavillion Community Centre.
It is straightforward to get to with plenty of transport links.
Please can course attendees arrive by 9.30am for registration.
Tea, coffee, and light refreshments are provided free of charge.