Contact us on 0800 157 1113 or info@surreyfire.co.uk for FREE quotes and advice
Service Areas
Barnet
Brent
Camden
City of London
Croydon
Ealing
Greenwich
Hammersmith & Fulham
Hillingdon
Hounslow
Islington
Kensington & Chelsea
Kingston
Lambeth
Lewisham
Merton
Newham
Richmond
Southwark
Sutton
Wandsworth
Westminster
Hammersmith & Fulham Fire Safety
The London borough of Hammersmith & Fulham is just a stone's throw from London's West End and home to many large businesses, including Chelsea Football Club.
It is a borough we know well here at Surrey Fire & Safety, as we have been supporting Hammersmith & Fulham residents and businesses with regards to fire safety for many years.
Having the right fire safety plan in place for your Hammersmith business is vital for protecting property and life. It is also often a pre-requisite for insurance and, of course, is a legal requirement.
As fire safety professionals, we are committed to making sure homes and businesses in Hammersmith & Fulham are properly safeguarded.
That's why we offer free advice over the phone, and free site surveys if you feel you need a bit of extra help.
Just give us a call on 0800 157 1113 for support with risk assessments, fire alarms, extinguishers, or any other fire safety service.
Read about UK fire safety legislation here.
Click for:
Hammersmith & Fulham
Borough Council
contact details
Click for:
Hammersmith & Fulham Fire Extinguishers
Any 'Responsible Person' looking after fire safety for their Hammersmith and Fulham premises will know that fire extinguishers are a vital part of fire protection plans.
So much so in fact that they are mandatory in UK businesses.
Fortunately our team of extinguisher engineers, working across Hammersmith and Fulham, can help make sure you are compliant with fire safety legislation – not to mention insurance requirements.
Find out about the different types of extinguisher here.
We only supply British fire industry approved, kite-marked extinguishers, guaranteed for 5 years, so you can always be confident that you're both safe and within the law.
For an instant quote or to book a site survey just contact our friendly team on 0800 157 1113 or by emailing info@surreyfire.co.uk.
Read about UK fire extinguisher legislation here.
---
Hammersmith & Fulham Fire Alarms
If you have a fire alarm in your Hammersmith & Fulham business premises, then current British Standards state it should be serviced at least twice a year to keep it maintained in good order.
The sad truth is, a broken fire alarm isn't going to be much use to you in the event of a fire.
Our team of industry-approved fire alarms engineers cover the whole of Hammersmith and Fulham and can help with all aspects of fire alarms – servicing, repairs, installations, and even weekly fire alarm testing.
Visit our Fire Alarm Servicing page
Visit our Fire Alarm Installation page
We only work to British Standards and all fire alarm installations are guaranteed for 12 months, giving you absolute peace of mind.
Read about UK fire alarms legislation here.
---
Contact Us
To speak to a member of our friendly team, to get a quote, or arrange a free site survey, please just call us on 0800 157 1113 or email us at info@surreyfire.co.uk, we'll be happy to help.
Or, if you prefer, you can arrange a callback by clicking the link below.
---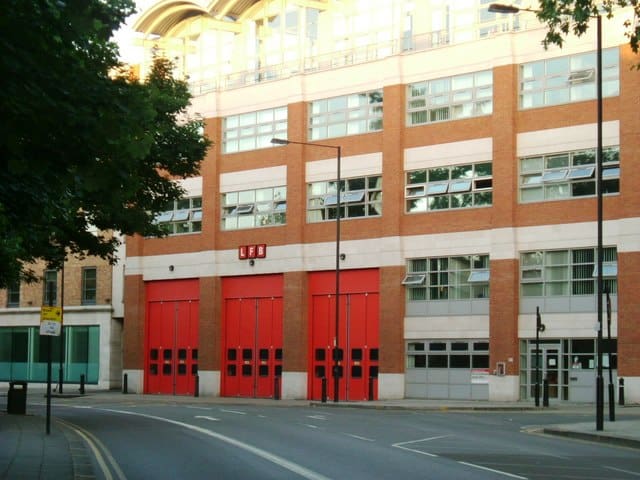 Hammersmith Fire Station, London Borough of Hammersmith & Fulham