Contact us on 0800 157 1113 or info@surreyfire.co.uk for FREE quotes and advice
Service Areas
Barnet
Brent
Camden
City of London
Croydon
Ealing
Greenwich
Hammersmith & Fulham
Hillingdon
Hounslow
Islington
Kensington & Chelsea
Kingston
Lambeth
Lewisham
Merton
Newham
Richmond
Southwark
Sutton
Wandsworth
Westminster
Kingston Fire Safety
Kingston, or Kingston-upon-Thames to give this London borough its full title, is a prestigious royal borough, home to the stately Hampton Court Palace which was damaged by fire in 1986 and later restored.
It just goes to show that nowhere is immune from fire risk, and that fire safety should be top of the list for Kingston residents and businesses.
If you are in Kingston and looking for help with fire alarms, extinguishers, risk assessments, training, or any other aspect of fire safety, then give us a call.
We pride ourselves on offering free, impartial advice – our priority is to make sure your premises are safe and compliant with regulations and insurance.
Because our team of fire safety engineers is in and around Kingston on a daily basis, we can often organise same-day or next-day appointments. Just ring 0800 157 1113.
Read about UK fire safety legislation here.
Click for:
Click for:
Kingston-upon-Thames
Fire Station
contact details
Kingston Fire Extinguishers
If you are responsible for fire safety for business premises in Kingston, you probably already know that fire extinguishers are required by law.
Why? For the good reason that extinguishers are usually the first line of defence against the 2000 commercial fires that happen in the UK each year.
Our industry-approved fire extinguisher engineers have been helping Kingston residents make sure they have the right types of extinguisher in the right locations for over 20 years, and will happily carry out a free site survey for any Kingston resident.
We offer all types of industry-approved extinguisher at highly competitive prices and will deliver, fit, and commission them absolutely free of charge.
It goes without saying that we also offer great rates on extinguisher servicing.
Visit our Fire Extinguisher Servicing page
Visit our Fire Extinguisher Installation page
To get an extinguisher quote for your Kingston business or home, or to book a survey appointment with a qualified fire extinguisher engineer, just give us a call on 0800 157 1113. We could have someone with you the same day.
Read about UK fire extinguisher legislation here.
---
Kingston Fire Alarms
Fire alarms are a great way to protect your business or home and are highly recommended for all but the smallest and most simple of properties.
Our team of expert fire alarms engineers has been serving Richmond residents for over 20 years and has completed many high quality fire alarm installations in the Borough.
Whether you are looking to install a fire alarm system from scratch, update your existing alarm, or need to book your regular maintenance visit, we can help.
Visit our Fire Alarm Servicing page
Visit our Fire Alarm Installation page
Just call our team on 0800 157 300 and they will be able to give you a competitive fire alarm service quote there and then over the phone, or arrange for one of our qualified fire alarms engineers to visit your Kingston property to carry out a free, fire alarm survey.
Read about UK fire alarms legislation here.
---
Contact Us
To speak to a member of our friendly team, arrange a free site survey, or to get a quote, please just call us on 0800 157 1113 or email us at info@surreyfire.co.uk, we'll be happy to help.
Or if you prefer, arrange a callback by clicking the link below.
---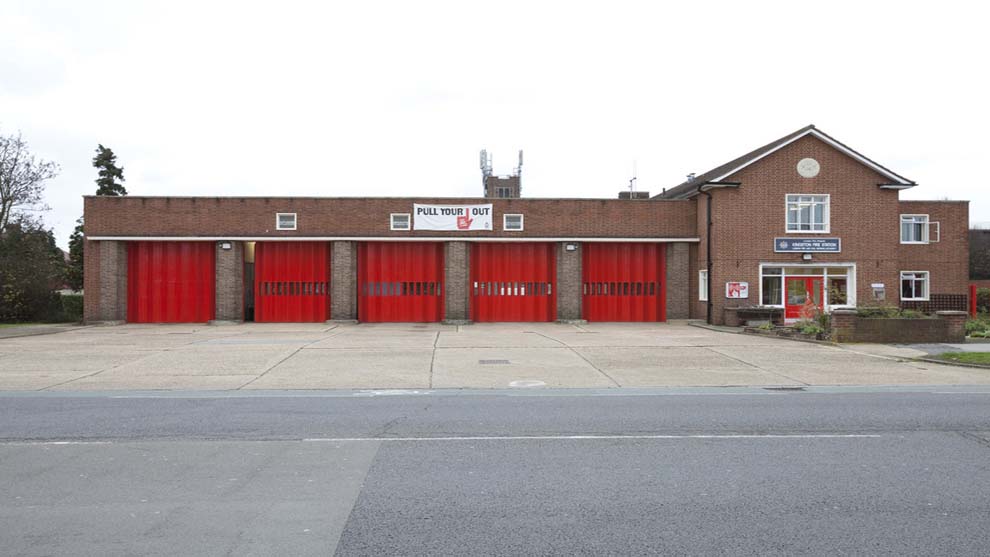 Kingston Fire Station, Kingston-upon-Thames