Powder fire extinguishers are ideal for 'multi-risk environments'. As with all of our extinguishers, our dry powder extinguishers enjoy a 5 year guarantee.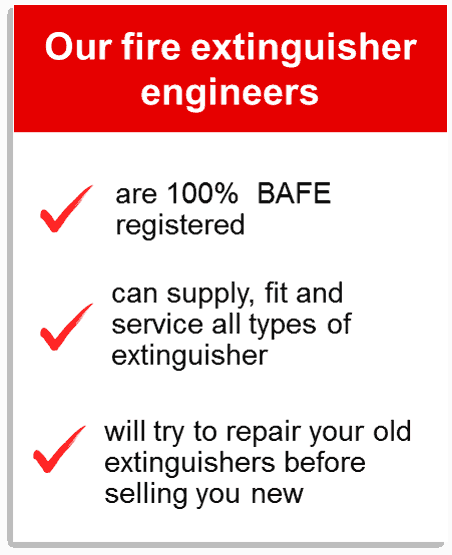 There are several types of dry powder extinguisher. The most commonly used is 'ABC' Powder, so called because it tackles A, B and C Class fires (combustible materials, flammable liquids and flammable gases).
There's also 2 types of specialist powder extinguisher which are used in cases of fire involving flammable metals.  These types of fire are rare but dangerous and it's important to have the right powder extinguisher available if your business premises are exposed to this type of risk.
The 'M28 type' Powder extinguisher will work on most types of metal fire, however only the 'L2 type' should be used with Lithium fires.
Al of our powder extinguishers come with a five year guarantee and are installed by our team of 100% BAFE registered fire extinguisher engineers.
---
Contact our friendly team today on 0845 845 3001 for your free Dry Powder extinguishers quote.
---
Dry Powder fire extinguishers
Use for:
ABC type – flammable solids, liquids and gases
M28 type – flammable metals apart from Lithium
L2 type – Lithium fires only
Don't use for:
Fires involving cooking oil