If you need fire extinguishers in London, talk to us. Our BAFE accredited engineers have been installing and servicing all types of fire extinguisher for all types of businesses in London for nearly 20 years.
Fire Extinguishers – London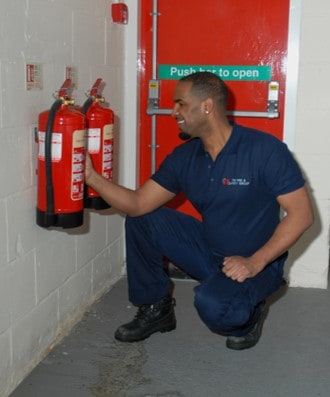 London, as a thriving capital city, is home to a vast array of businesses, many of which are housed in some of the most spectacular and historic buildings in the world.
Whatever your business in London, if you are responsible for fire safety in your organisation, then you probably already know that your commercial premises need fire extinguishers to remain within UK fire safety legislation.
However you may not be clear which types of fire extinguisher you need or where they should be placed.  It's an important point because the different types of extinguisher are designed to put out different types of fire.
We understand that not everyone is a fire safety professional (that's our job), so we try to take the pain out of fire protection by offering every single business in London a free fire extinguisher site survey.  This survey will tell you explicitly which types of extinguisher you need, specify how many of each, and where they should be located.  Visits can be arranged quickly and simply, they're free of charge, and there's absolutely no obligation attached.
We supply, fit, test, service and certify fire extinguishers of all types including foam, water, dry powder and CO2 extinguishers, both in stainless steel and the more standard red.  All of our extinguishers are kitemarked and meet both British and European standards.  They also come with a 5 year guarantee.
Our fire extinguisher engineers are all BAFE registered and work to British Standards.  They have broad experience and have installed and serviced extinguishers for many different types of business in London, in all types of premises including big office complexes and other large buildings, such as schools, hospitals and warehouses.
---
How we can help
The whole of London covered for fire extinguishers, including Greater London
Industry accredited, BAFE registered fire extinguisher engineers
Fully industry-approved range – Kitemarked, BSEN3 approved
Foam, CO2, powder, wet chemical and water extinguishers, for all types of fires
5 year guarantee on all fire extinguishers
Old fire extinguishers removed from your London premises free or for a small charge
Full delivery, commissioning and certifying to British Standards
---
If you are looking to buy fire extinguishers in London then we can give you a competitive price and top-quality service from our team of friendly fire extinguisher engineers.
To get a quote, arrange a survey, or just get some good advice, call us on 0800 157 1113 or use our contact form to get in touch.
Fire extinguishers – London
Fire Extinguishers – London